John The Ripper Crack Sha512 Encryption
I just spent at least 15 minutes trying to figure out why every single post on the Internet tells me to place MD5 hash in a file and call John like this
On Ubuntu 12.04 I created several users and passwords, then promptly proceeded to try to crack those passwords with John the ripper. One password is very strong, but the others are in my wordlists. John is still running, but I've got two cracked so far in about 20 minutes. Everything I read talks about whether the salt is known or not.
I've encountered the following problems using John the Ripper. These are not problems with the tool itself, but inherent problems with pentesting and password cracking in general. Sometimes I stumble across hashes on a pentest, but don't recognise the format, don't know if it's supported by john, or whether there are multiple.
john --format=raw-md5 --wordlist=/usr/share/dict/words md5.txt
Aug 20, 2017 John The Ripper running in Termux (part 1 - crack hash SHA512). John The Ripper Tool in. Java Tutorial - Hash functions (MD2, MD5, SHA-1, SHA-224, SHA-256, SHA-384, SHA-512.
and yet, it constantly gives me an error message:
No password hashes loaded (see FAQ)
The content of md5.txt was:
20E11C279CE49BCC51EDC8041B8FAAAA
I even tried prepending dummy user before this hash, like this: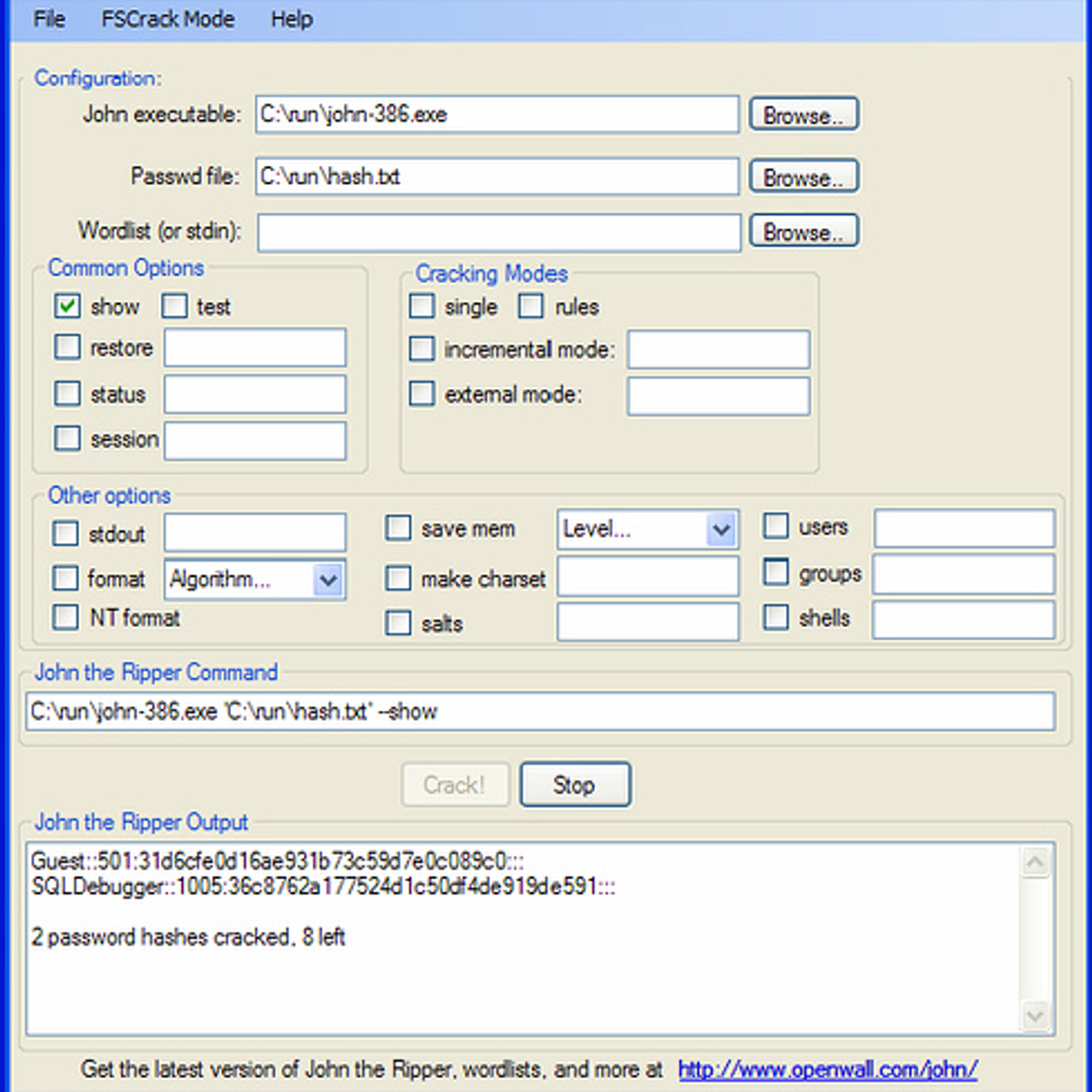 dummyuser: 20E11C279CE49BCC51EDC8041B8FAAAA
but without any luck.
John The Ripper Crack Sha512 Encryption Software
And of course I have extended version of John the Ripper that support raw-md5 format.
It turned out that John doesn't support capital letters in hash value!
John The Ripper Crack Sha512 Encryption Free
They have to be written in small letters like this:
John The Ripper Crack Sha512 Encryption Windows 10
20e11c279ce49bcc51edc8041b8fbbb6
after that change, everything worked like a charm.
John The Ripper Crack Sha512 Encryption Key
What a stupid error!?